Fairyland 100 Marathons is 100 marathons in 100 days at 100 top destinations in Yunnan Province from early May to early August in 2018. Each of the 100 marathons is standard marathon distance with timing, aid stations, medical support, and attracts both elite and ammeter runners to participate.
The participants can run just 1 of the 100 marathons; however, Feibao Jin, the founder of this event, among a few other runners, will try to finish all of the 100 marathons.
Keep reading to know more about the complimentary VIP trips we offer, why you should come to Yunnan, and who is Feibao Jin.
As the overseas partner of the event, Runbuk offers complimentary VIP trips to overseas runners that pledge to run 1 of the Fairyland 100 Marathons.
Complimentary VIP Trips
Once engaged, you will run 1 of the Fairyland 100 Marathons as an VIP runner, and enjoy a free trip to China:

round trip airfare
Chinese visa if applicable
marathon related services (accommodation, transportation, welcome meals, marathon entry fee, etc.).
Spots are very limited so send your profile now. It can be your website, your blog, articles about you, or your race result page. We will send Engagement Letter to selected runners.
Yunnan, the fairyland of China.
Yunnan literally means "South of Yun Mountain". It is a province in southwest China, bordering Myanmar, Laos and Vietnam as well as the Chinese provinces and regions of Guangxi, Guizhou, Sichuan and Tibet.
It is hard to find another place like Yunnan on our planet. It is rich in varied landscape - snow-capped mountains, deep gorges, rice terraces, lakes, and limestone formations, and it hosts a large number of ethnic minorities and have many well-preserved old towns dating back 600 hundred years ago.
Rice terraces, World Heritage site.
Cultural Landscape of Honghe Hani Rice Terraces has a history of 1,200 years and covers 1 million acres.
Yunnan Three Parallel Rivers, World Heritage site (Image Author and copyright: Vincent Ko Hon Chiu).
Three Parallel Rivers are three mighty rivers running parallel to each other for over 200 km (125 miles) before entering different oceans, carving out 3000 meters deep canyons (twice as deep as Grand Canyon) between 6000 meters high glaciated mountain.
Stone Forest, World Heritage site.
Stone Forest contains limestone karst peaks formed 270 million years ago.
Lijiang Old Town, World Heritage site.
The 800-year old town is home to the Naxi Minority People and several other ethnic groups. Cobblestone streets and canals bring you back to Song Dynasty.
Impression Lijiang (Photo by CEphoto, Uwe Aranas).
"Impression Lijiang" is a cultural show demonstrating the traditions and lifestyles of Naxi, Yi and Bai minorities in Lijiang area with the Jade Dragon Snow Mt. as its backdrop (3,100 meters above the sea level). 500 performers are the actual minority people from 16 towns and villages around Lijiang.

Ganden Sumtsenling Monastery.

Built in 1679, Sumtsenling is the largest Tibetan Buddhist temple in Yunnan Province, located 3,380 meters (11,090 ft) above sea level.
Mosuo ethnic group.
Mosuo people live around Lugu Lake area and are supposed to be China's "last matrilineal society."
Who is Feibao Jin?
The founder of Fairyland 100 Marathons is Feibao Jin. He will attempt to finish all the 100 marathons.
When asked why he wants to organize this event, he said his passion for running and his love to homeland push him to organize this event. The event will also raise money to help the diagnosis and treatment of children's Congenital Heart Defect (CHD) in the poor regions of China.
Born and raised in Yunnan, Feibao is a runner, explorer, mountaineer, and writer.
Feibao completed "7 Summits + 2 Poles" in less than 19 months in 2006 and 2007.
Feibao has ran 7 ultra-marathons, one on each continent.
Feibao and his team cycled form Boston to Los Angeles in the summer of 2015.
Feibao completed Atacama Crossing (250km) in Oct. 2014.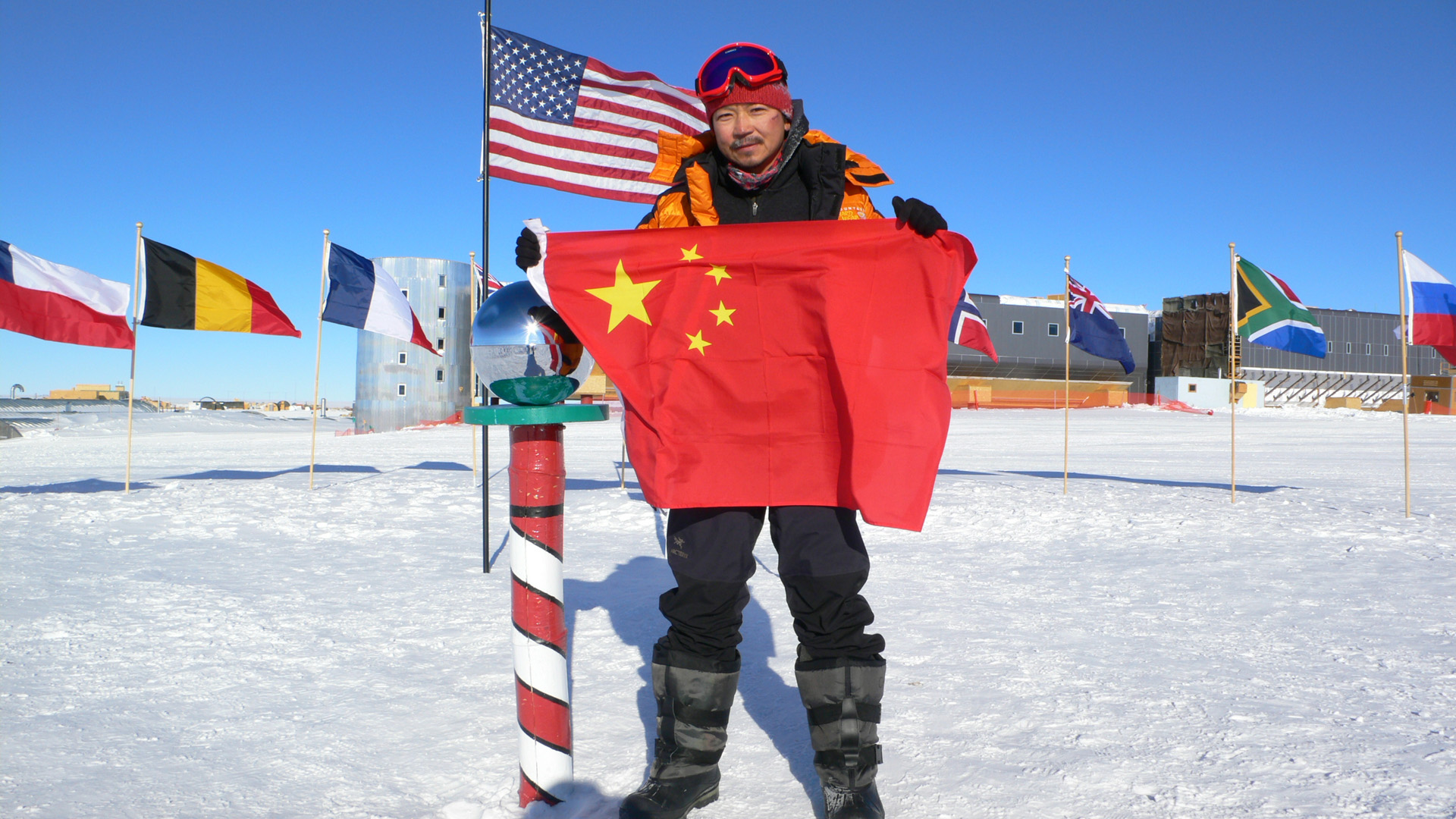 Feibao at the South Pole.
Feibao at the top of Mount Everest on May 14th, 2006.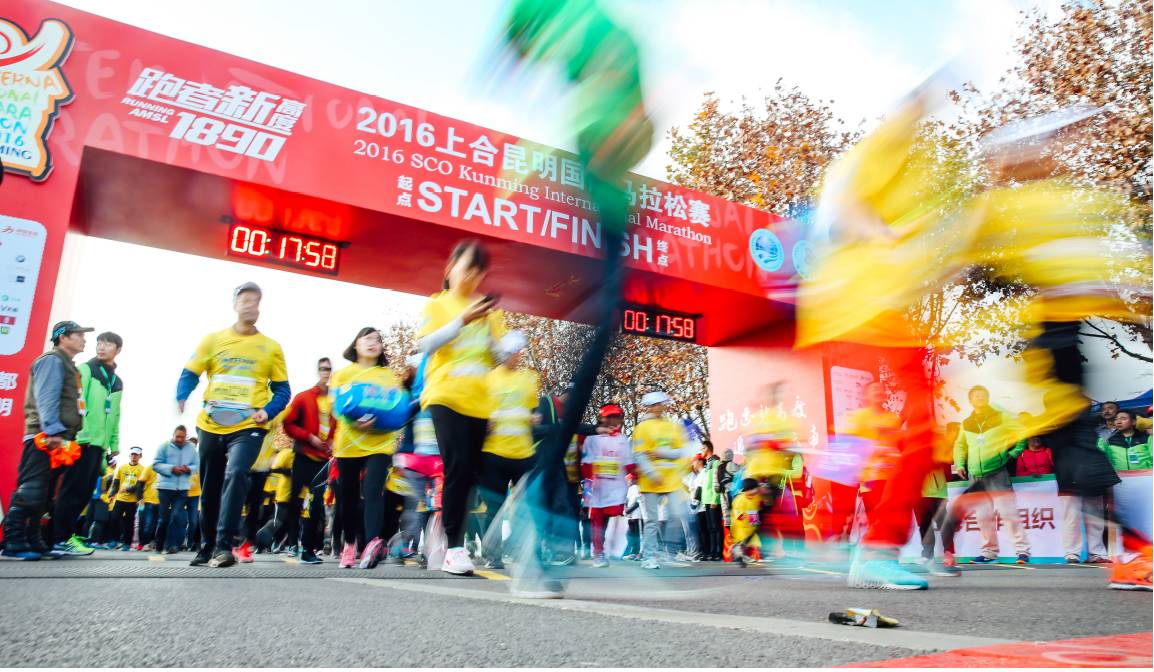 Feibao served as the Head Consultant for 2016 SCO Silk Road Marathon.